FEATURES
Supports fitness sorting, denomination sorting, face/orientation
sorting, version sorting, etc.
Fitness sorting: Mutilation, De-inked banknotes, Folded corners,
Holes, Soil, Stains, Tape, Tears, Washed banknotes, Repairs.
Serial number reading and records.
Big display, friendly user interface.
Can extend to 8+1 pockets, 12+1 pockets, more efficient use.
Windows operation system, providing software interfaces to
facilitate the subsequent developments at client side.
Access to note transport path, easy to clean and maintain.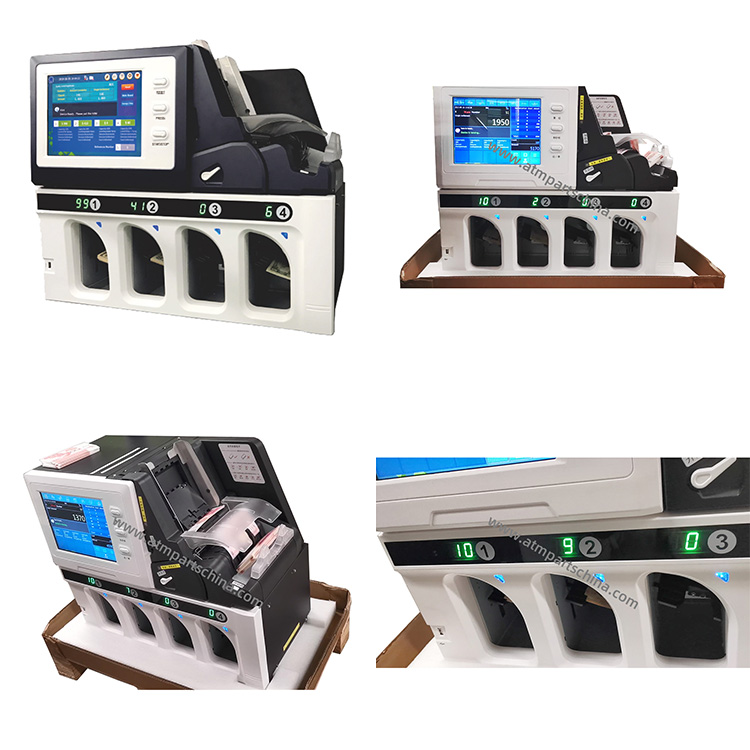 SPECIFICATIONS
Speed: 900notes/min for counting 720 notes/
min for fitness sorting
Hopper Capacity: 1200 notes
Stacker Capacity: 600notes*4
Reject Pocket Capacity: 300 notes
Operating System: Windows 7
Operating Temperature: 0°C~45°C
Power Supply: 220VAC±10%, 50HZ±5%
Power Consumption: ≤240W
Storage Capacity: Up to 64G
External Connection: LAN, USB, RS232, VGA
Display: 12.1" Touch Screen
Dimensions: (W)715*(H)640*(D)380mm
Weight: 60.5kg